By Cindy Liu
Like Hainanese chicken rice or chili crab, laksa has long been considered a defining signature dish of the Singapore identity.
Derived from the Persian word for noodle (lakhsha), laksa comprises thick chewy rice noodles served in spicy coconut milk soup packed with ingredients such as cockles, large prawns, and sliced fish cake.
Other varieties available in Singapore include the sour and spicy fish soup-based asam laksa—a signature dish of Penang—and Sarawak's thin vermicelli laksa served in a flavourful broth made from chili, shrimp paste, herbs, spices, and coconut milk, topped off with chicken and prawns.
But in Singapore, it is Katong that is home to this tantalizing dish. In fact, both Katong and laksa are manifestations of the splendour of the country's multi-ethnicity.
Katong Laksa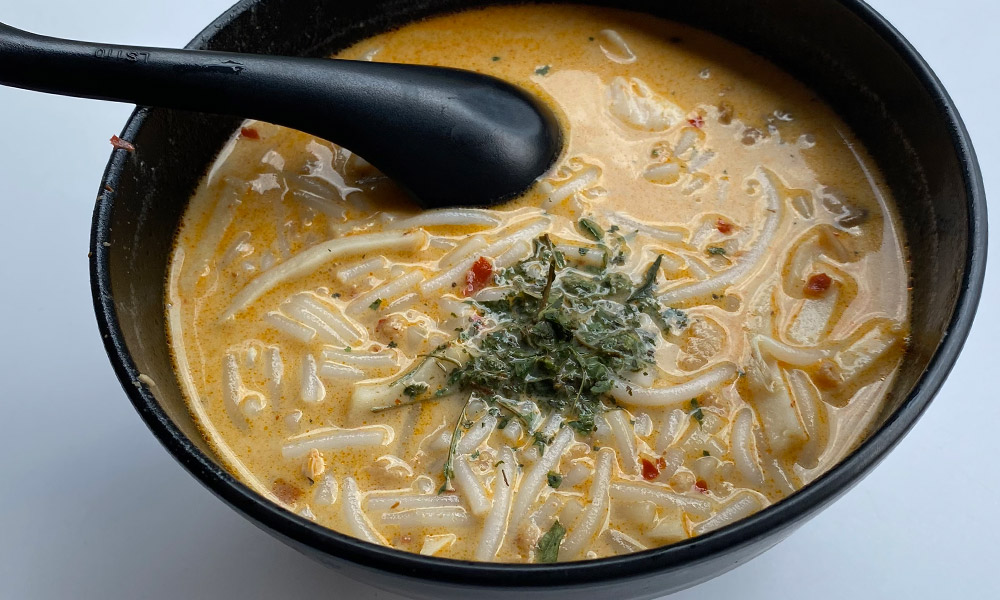 Peranakans, or straits-born Chinese, are well-known for their fancy and complex cuisines.
It is said that prior to the popularisation of Peranakan restaurants in Katong and Joo Chiat—where many Peranakans originally resided, imprinting their culture upon the area—it would be considered shameful by Peranakans to dine out at a Nyonya restaurant. Nyonya, sometimes also spelled nonya, is the term for female Peranakans, while male Peranakans are known as Baba.
"If you want to eat nonya food, you come to my house. You don't go to a nonya restaurant. The best food is always in my house–that was the attitude," according to the book Joo Chiat: A living legacy.
So, if you have the chance, try a Peranakan family's home-cooked laksa. Otherwise, the most authentic Katong laksa is arguably Janggut-style laksa.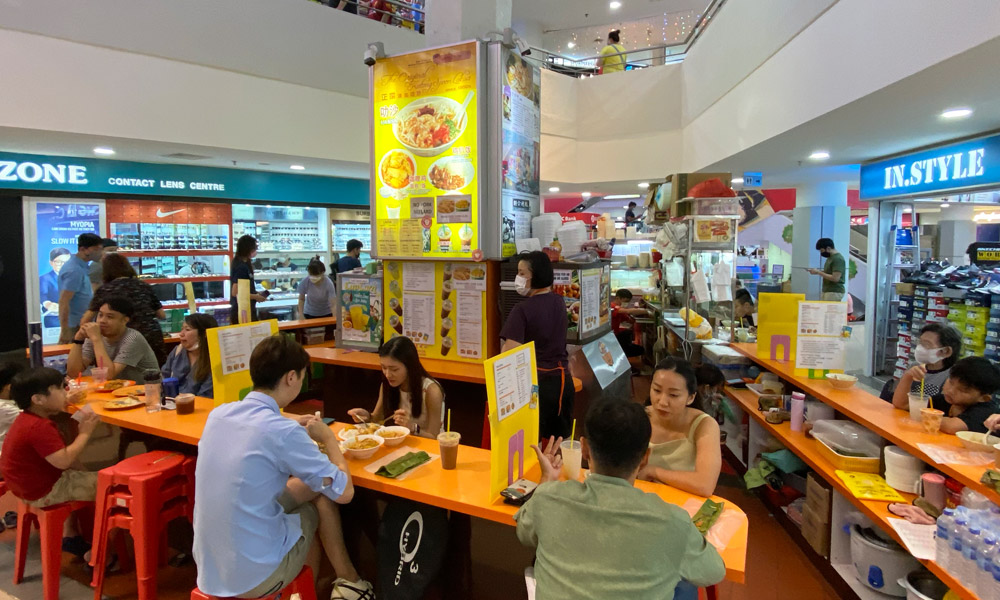 Janggut is the Malay word for beard. It was the nickname of the laksa hawker who had a few hairs growing out of a mole below his chin.
Today, the famous Janggut Laksa stall in Queensway Shopping Centre is said to be run by Janggut's family.
But how did Janggut start making laksa?
More than 70 years ago, Janggut learnt how to cook laksa from the Peranakans living in Katong. He later married a Nyonya lady who was the daughter of one of his customers.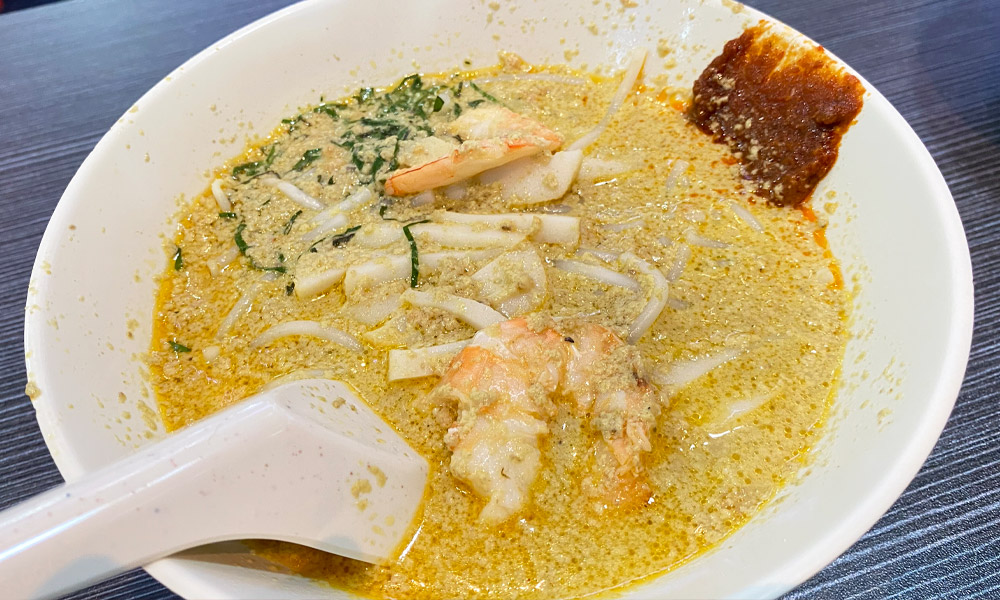 The Katong laksa Janggut invented was so delicious that it soon rose to fame.
The thick rice noodles are cut into small pieces so that you can easily scoop up a spoonful of all the ingredients without the need of chopsticks.
And yes, if you ever visit Janggut Laksa at Queensway Shopping Centre—or its other outlet, The Original Katong Laksa at Roxy Square—for a bowl of comforting laksa, you'll notice that no chopsticks are provided, only spoons.
'Laksa War'
In the late 1990s, a "laksa war" started in Katong when each stall in the area began claiming that its laksa was the closest to the original. Posters were put up and stall staff even called out to passers-by to promote their image of being the most authentic.
Following a period of intense competition, only three survivors remained: The Original Katong Laksa, 328 Katong Laksa, and No. 49 Katong Laksa, which has since closed for good.
The Original Katong Laksa (also known as Janggut Laksa) caters more towards the Peranakan Nonya palate. The rich and creamy laksa broth contains shrimps, cockles, and fish cakes. Compared to the typical laksa available in food courts, it is creamier, less spicy, and stronger in flavour due to a generous helping of coconut milk. If you enjoy Peranakan food, you will find its taste very agreeable.
The curry chicken at The Original Katong Laksa is another favourite of its patrons.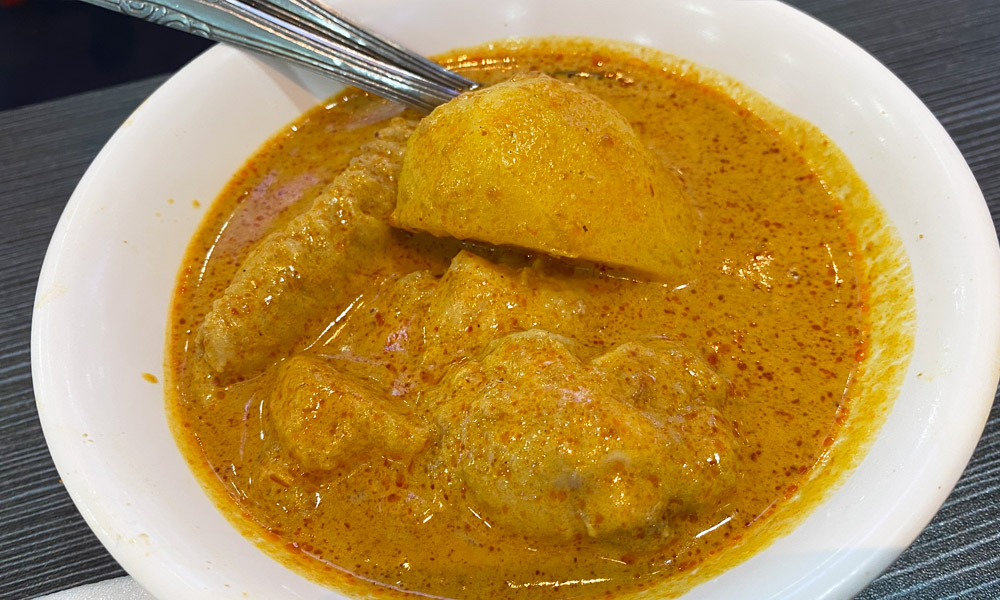 The other surviving prominent laksa brand, 328 Katong Laksa, serves hearty bowls of laksa noodles with a generous serving of ingredients including shrimps, cockles, bean sprouts, and fish cakes. You can also taste the fragrance of the hae bee (dried shrimp) in the soup. The broth is spicier, but less thick as well. It is very flavourful, and customers who prefer less coconut milk will find its laksa soup well-balanced.
Which one is your favourite?