By Carina Tan
When it comes to hawker food, hokkien mee is always a favourite of locals. According to Wikipedia, the Singaporean version of hokkien mee was created after World War II by Chinese sailors from the Fujian (Hokkien) province in Southern China. It uses a combination of egg noodles and rice noodles, stir fried with egg, pork, prawns and squid. The broth or gravy is made from prawn stock and pork bones. Sambal chilli and calamansi limes are typically served at the side of the plate as condiments.
1. Kim Keat Hokkien Mee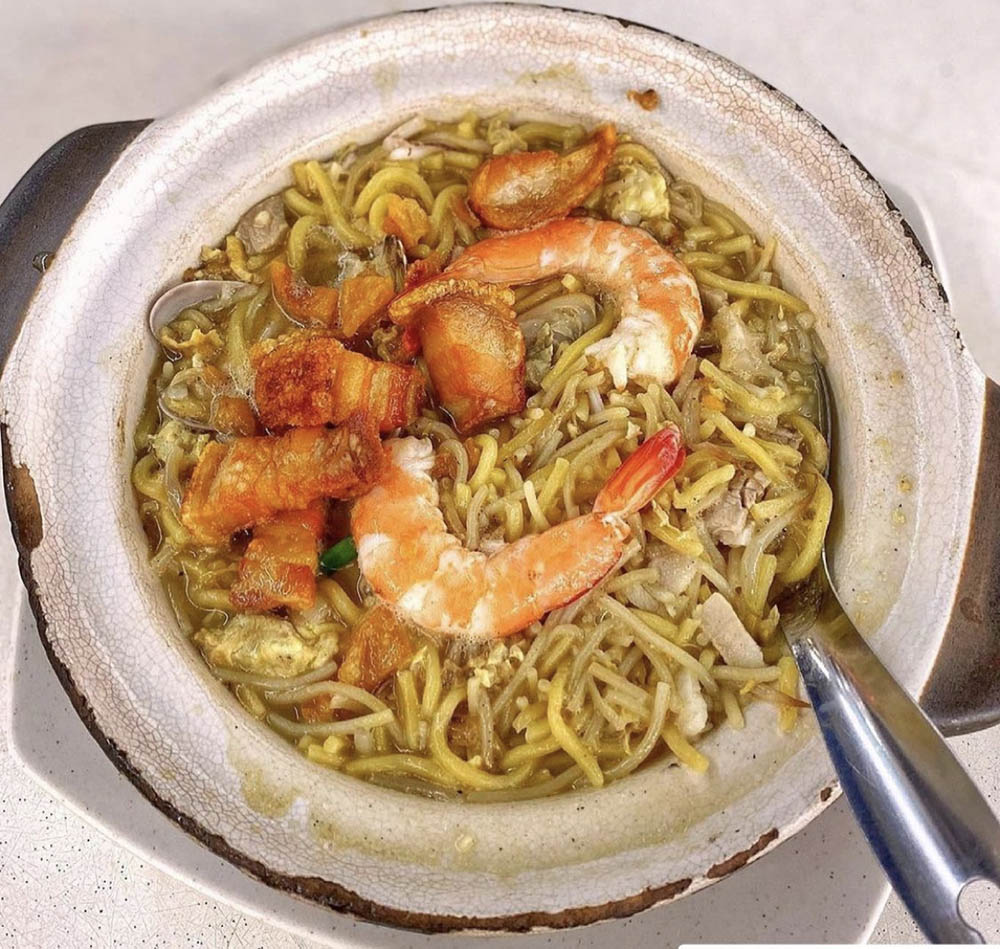 This stall has been in business since the 80's. Their signature dish is claypot hokkien mee for 2, priced at $10 and keeps the noodles warm for a lot longer. Though it comes with a lot of gravy when it's freshly cooked out of the kitchen, after some time, the gravy is absorbed by the noodle which leaves the texture of the noodles just right. Roasted pork and clams are added on top of the noodles too, and of course, the chilli goes very well with the dish.
Address: 92 Lor 4 Toa Payoh, #01-264, Singapore 310092
Operating Hours: 11am-7pm
2. Hokkien Man Hokkien Mee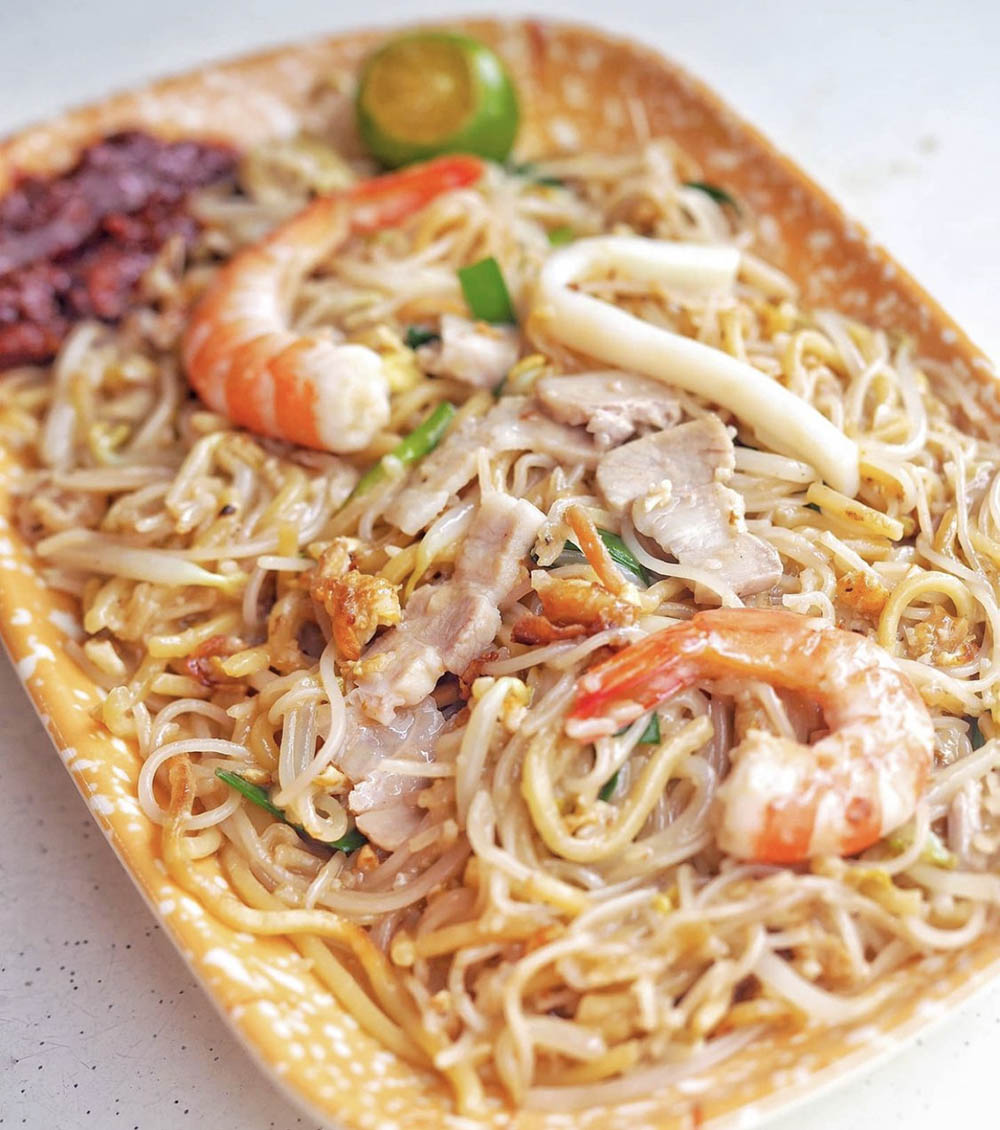 This hokkien mee stall is run by a former sous chef of 3-star Michelin Star restaurant, Les Amis Restaurant. Xavier Neo and his wife, Alice, both developed their own style of hokkien mee with their own sambal chilli recipe. They use seafood and pork in the hokkien mee which is priced at 3 different tiers. The squid is not overly cooked and still maintains its chewiness, the prawns are shelled and the pork belly is cut into thin slices so that you can easily eat the whole plate. However, the sambal chilli is a bit on the sweet side which may not be to some people's taste.
Address: 19 Lor 7 Toa Payoh, Block 19, Singapore 310019
Operating Hours: 10am-2:30pm
3. Ah Hock Fried Hokkien Noodles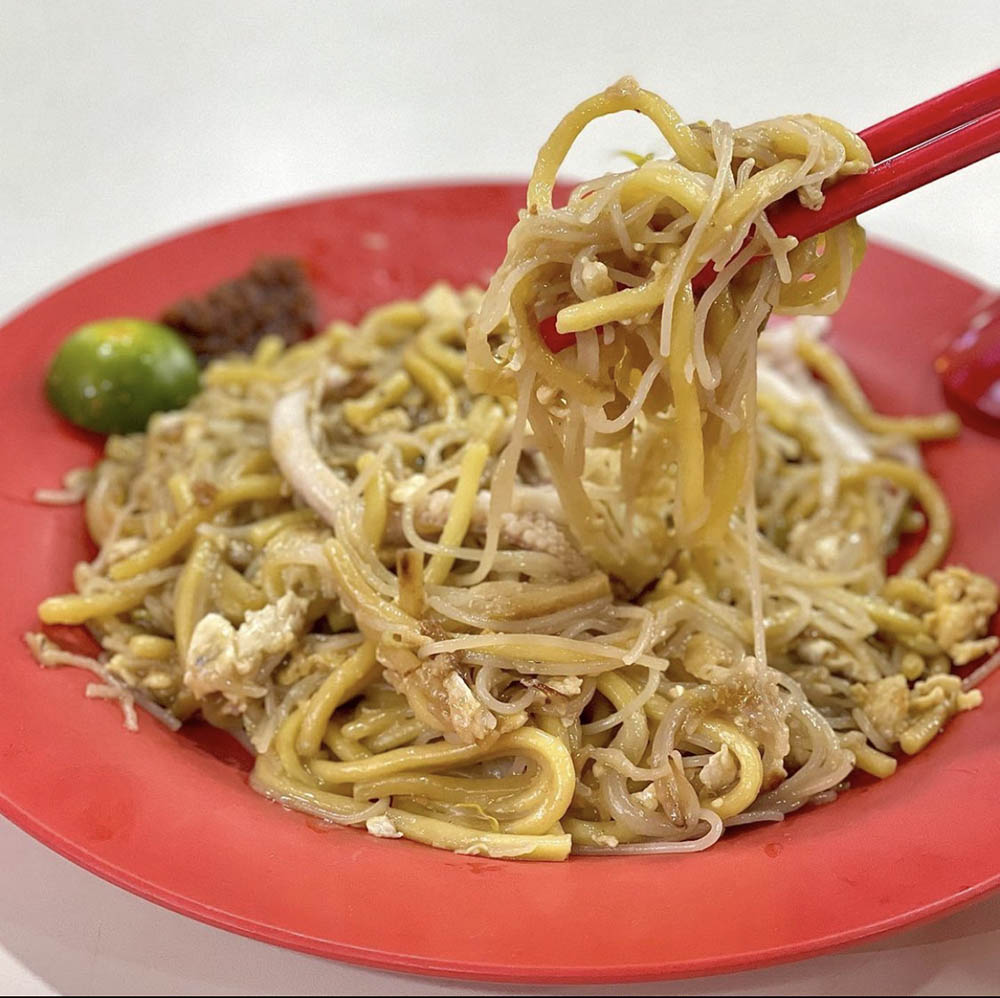 Unlike other stalls, Ah Hock uses thin bee hoon noodles, imparting a very satisfying wok hei taste. It's also considered to be the cheapest hokkien mee in Chomp Chomp Food Centre. Surprisingly, it tastes even better when taken out, as the noodles absorb all the gravy. However, the operating hours are short, so do take note of them before coming down.
Address: 57 Garden Way, Chomp Chomp Food Centre Stall 27 Serangoon Gardens
Operating Hours: 530pm to 12am daily (Closed on Monday)
4. Nam Sing Old Airport Fried Mee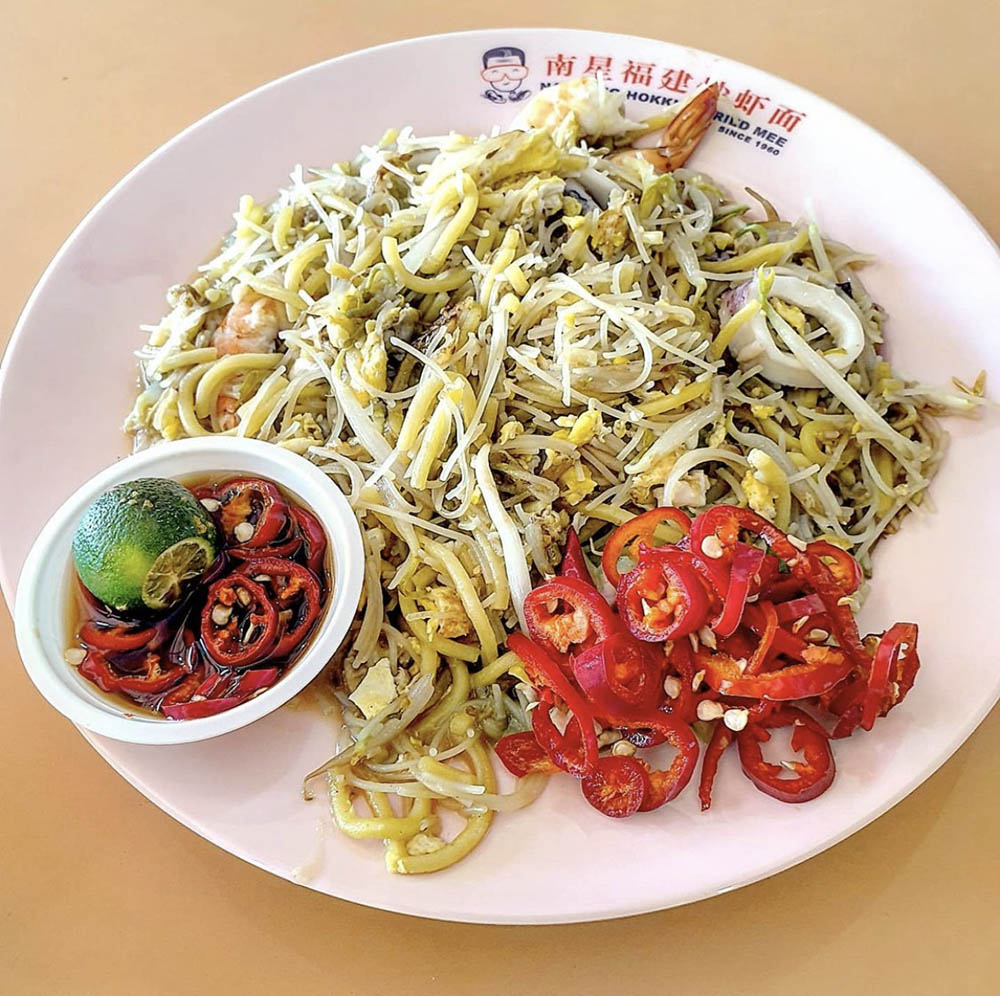 This stall has a long history. It started as a street stall at Eu Tong Seng Street in the 40's and moved to Simon Road Wet Market during the 60's and eventually moved to Old Airport Road Food Centre in the 90's. It is more on the dry side with a strong aroma of ikan bilis and seafood. They also use thin bee hoon, and proportionally, there is more bee hoon than yellow noodles which soaks up even more broth. Take out works well too as the texture of the noodles is enhanced and it becomes more fragrant. Though they do not provide sambal chilli, they have fresh chilli by the side.
Address: 51 Old Airport Rd, #01-32, Singapore 390051
Operating Hours: 10am-6pm (Closed on Monday)
5. Geylang Lorong 29 Fried Hokkien Mee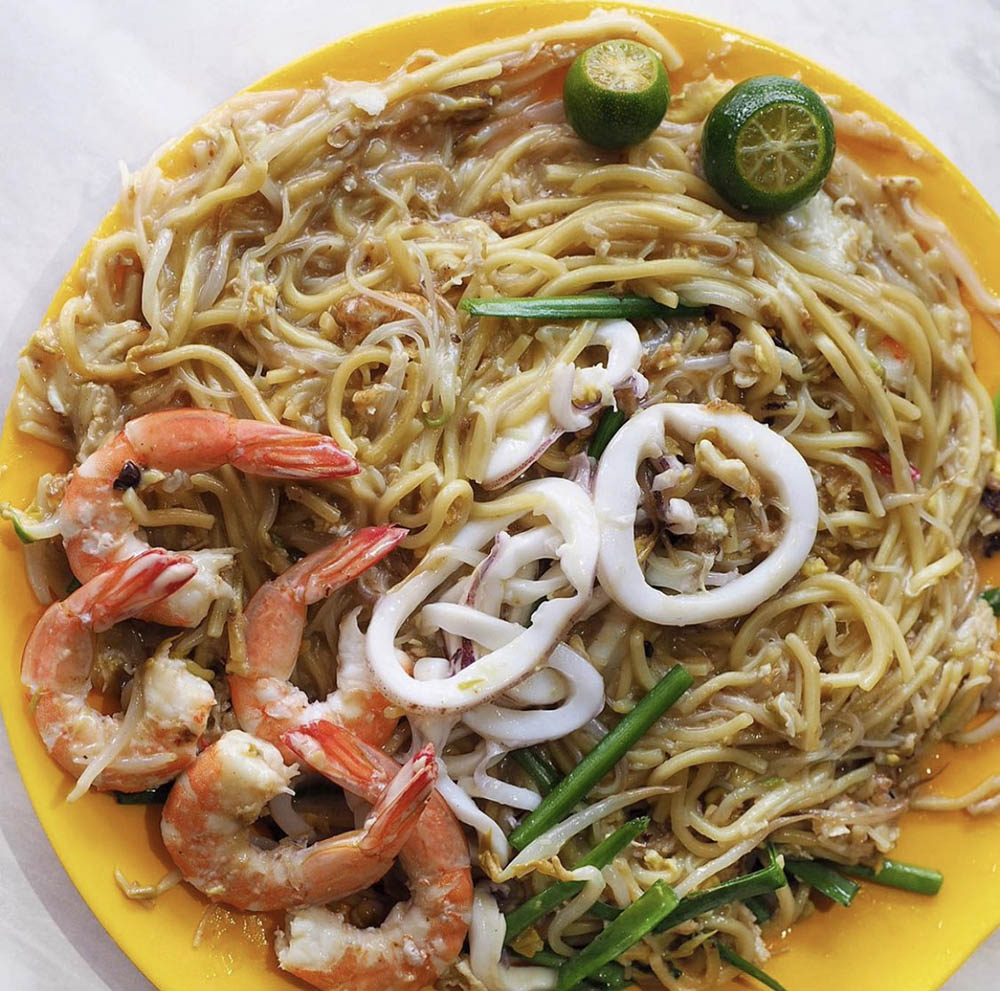 This is a shop that's located at 396 East Coast Road. Since they use charcoal to fry the hokkien mee, you can easily taste the charred smokiness. They are also very generous with their seafood, serving squid and prawns. The price ranges from $6 to S20. Please remember to request for more chilli when you order.
Address: 396 East Coast Road Singapore 428994
Operating Hours: 1230am-230pm, 430pm-830pm (Closed on Monday)
6. Havelock Road Blk 50 Hokkien Prawn Mee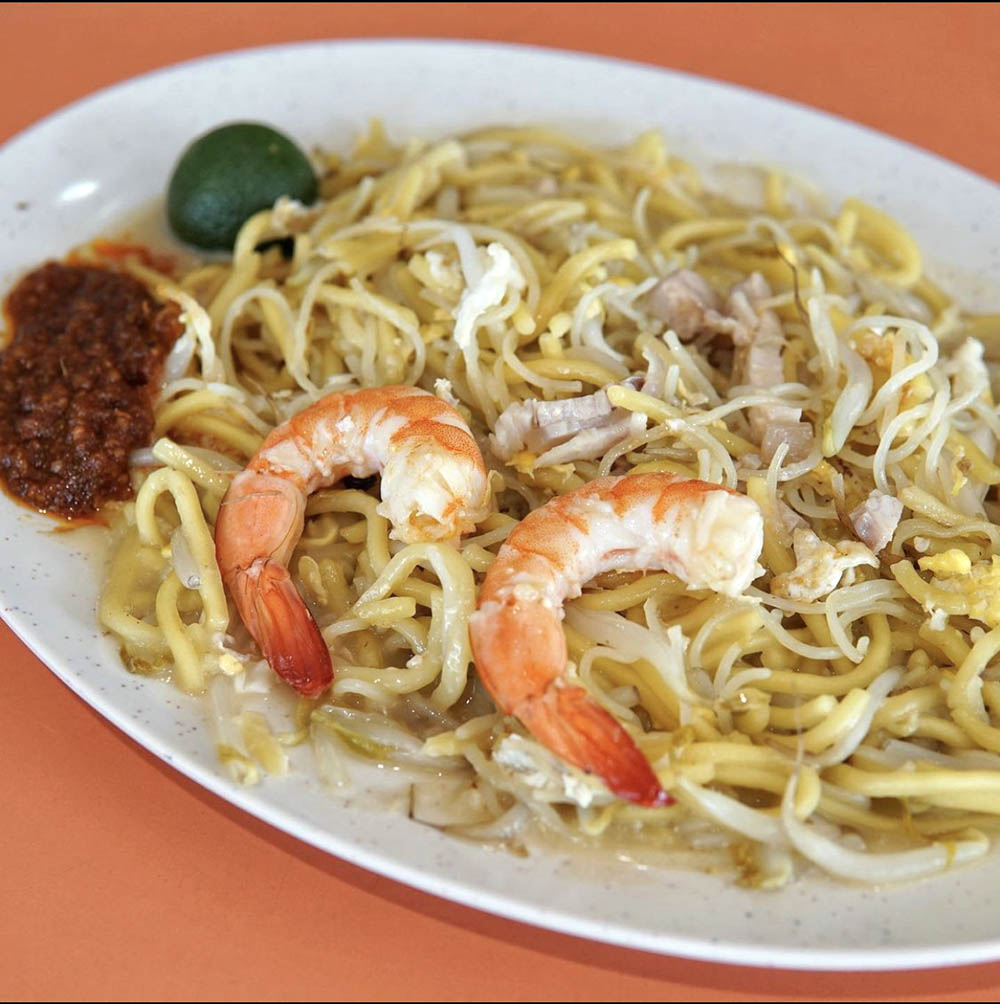 Mr. Soon, the owner, has been frying hokkien mee for over 53 years since he was 16 years old. The Hokkien Mee is filled with a generous serving of pork belly and prawns and it is very flavourful with the prawn stock. The texture is still chewy despite the noodles soaking up the gravy. Chilli is also served in a very generous portion.
Address: ABC Brickworks Food Centre
Operating Hours: 8am to 230pm (Closed on Tuesday)
7. The Neighbourwok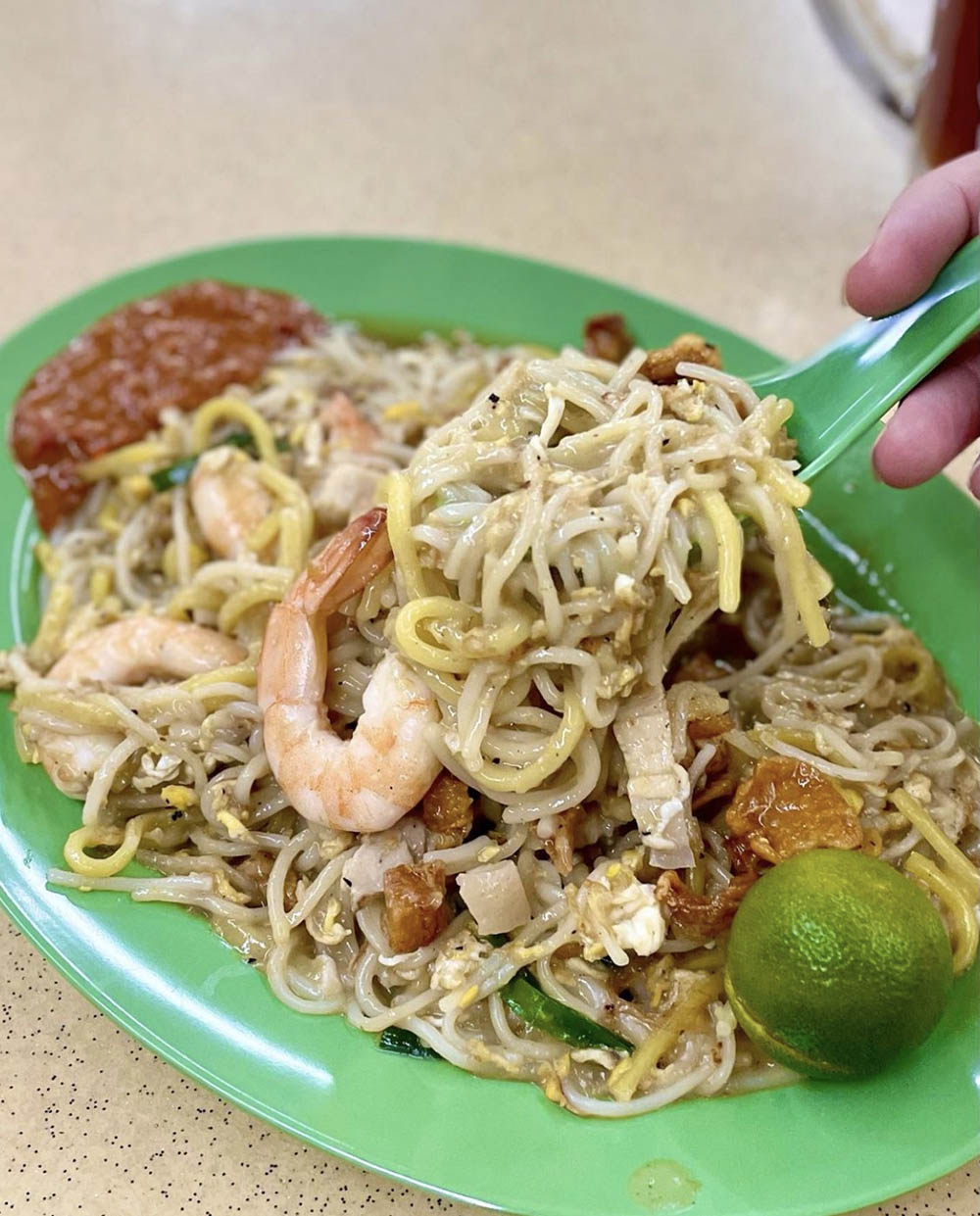 Considered to be one of the best hokkien mee in the west, they serve a wet version filled with wok hei and use a combination of yellow noodles with thick bee hoon. Unlike other hokkien mee stalls that sell carrot cake, The Neighbourwok sells tender and juicy satay after 4pm.
Address: 177 Bukit Batok Avenue 8, Singapore 650177
Operating Hours: 11am-230pm, 4pm-830pm (Closed on Monday)
8. Singapore Fried Hokkien Mee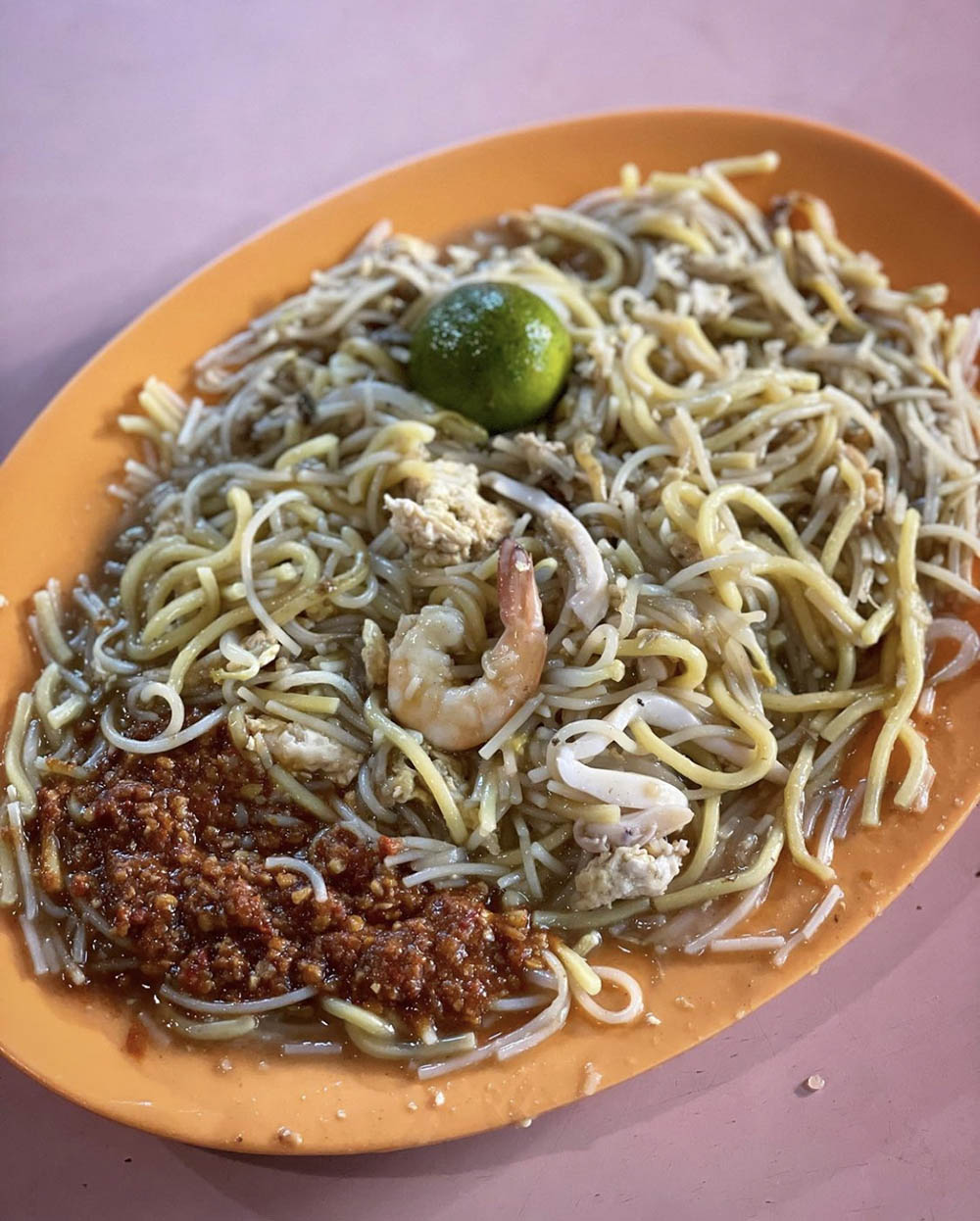 This stall always has a long queue so do try to go early to avoid waiting. They serve a wet style of hokkien mee with a decent smokiness, with excellent sambal chili by the side. Since they operate late into the night, it's a perfect spot for supper.
Address: Whampoa Food Centre, 90 Whampoa Dr, #01-32, Singapore 320090
Operating Hours: 3.30PM – 1.30AM (Mon to Fri), 2PM – 1.30AM (Sat & Sun), Closed on Thursdays