By Vibrant Dot Staff
SINGAPORE—The Russian owner of Dumplings.ru is donating 10 per cent of his restaurant's sales in deliveries for humanitarian efforts in Ukraine.
Vadim Zoubovski, 51, has not lived a day without fearing for the safety of his family and relatives in Kyiv and parts of Ukraine since the war broke out in February. He is a permanent resident and father of two.
COVID-19 measures for dining and netizens' recent backlash against his restaurant amid the war added to the niggle.
"Our hearts go out to all those affected in Ukraine and their loved ones. With our own family based in Kyiv, Ukraine, currently, we worry and pray for their safety in hopes that this difficult period will soon pass… we do hope people can be kinder in their words and refrain from leaving further hate speech in this humble space we have created," his social media post wrote.
Vadim, however, is grateful to his customers, primarily Singaporeans and the expat community, for their support during these challenging times.
Born in Ukraine, Vadim moved to Singapore for a job posting in 2004. His passion for Russian food, culture, and heritage sparked the idea of peddling dumplings at a modest takeaway kiosk at Tanjong Pagar MRT.
"The food we bring is not fine dining, but homemade dishes and what we used to eat growing up in Russia and Ukraine," explained Vadim, who longed for people to celebrate food in a cosy environment in spite of cultural differences.
Demands and orders soon grew, and so did his stall, which has transformed into a full-fledged restaurant at Maxwell Chambers.
Dumplings.ru oozes vintage old-world charm: Slavic and Russian music creates a mystical, uplifting vibe. Vintage posters plaster the walls. Antiques, wooden furniture, and memorabilia of yesteryear punch character to the strangely familiar abode.
Vadim's eyes lit up as he pointed to a 1984 video recorder and a 1970 alarm clock, which are still working.
"It's a horn from my childhood when I was in summer camp. They would wake up kids with this horn. Every morning at seven, they would play the horn," he recalled, chuckling. "The sound is sharp and strong. I cannot play now because it's missing a mouthpiece."
Vadim is proud of his restaurant serving the Russian-Ukrainian palate that has won the hearts of many loyal local patrons.
"We received good feedback from customers, and people [used to] have a choice between Italian, French, Chinese cuisine, [but] now they [also] have a choice of Russian-Ukrainian cuisines," he beamed.
But Vadim added that the dishes take time to cook and are prepared from a central kitchen off Beach Road.
Signature dishes include Pelmeni (Russian meat dumplings), Vareniki (Ukrainian vegetarian dumplings), Salo (Ukrainian pork belly), Borscht soup and Medovik (Honey cake).
Dumplings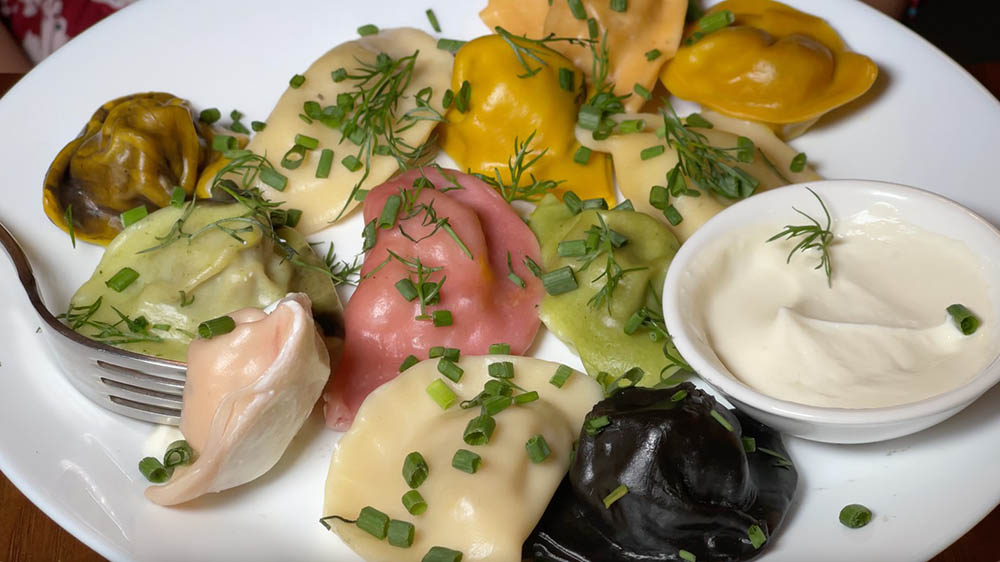 The savoury Russian-Ukrainian dumplings come in a combo platter of 12 comprising pork, beef, lamb, chicken, beef-chicken, beef-pork, potato-bacon, salmon, potato, potato-mushroom, and cottage cheese.
Pelmeni is smaller and rounder, while Vareniki is bulkier, and half-moon shaped. Unlike Chinese dumplings, which are steamed, Russian and Ukrainian dumplings are boiled to keep the skin thick and hence intact.
"Dumplings are eaten fast, but preparation takes time. We must marinate, freeze, and keep. In the past, we used to cook dumplings for dinner. Any left-over the next day, we pan-fry," Vadim fondly recalled.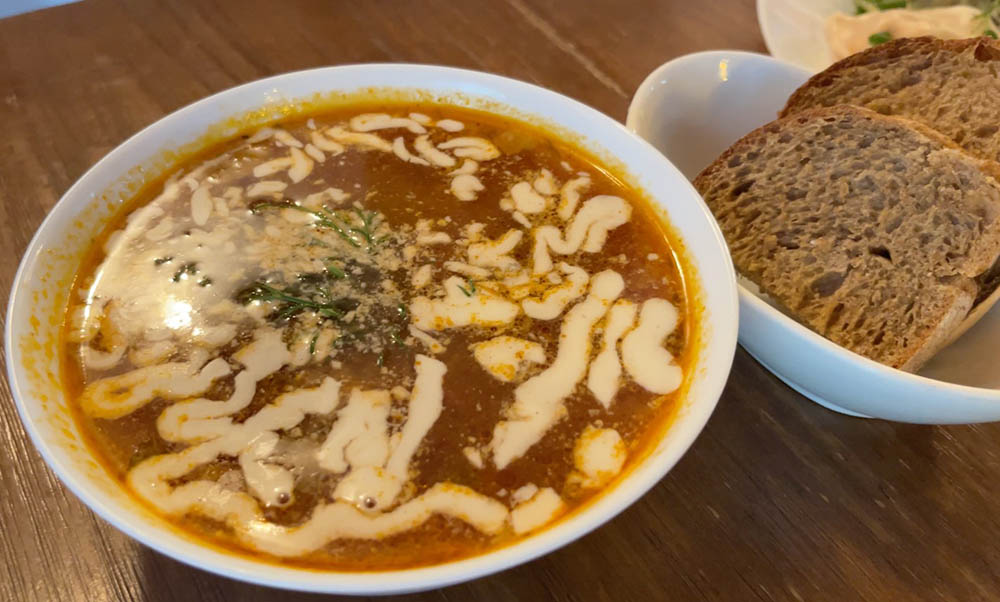 Borscht is a famous Ukrainian soup boiled with pork and vegetables, notably beetroot, giving it a reddish tinge. Borscht requires three to four hours of preparation, but can be kept for more than a week.
"Borscht soup is interesting as a lot of vegetables are used, onions, carrots, beetroots, cabbages, potatoes, green bell peppers, so it's really a decent flavour."
Salo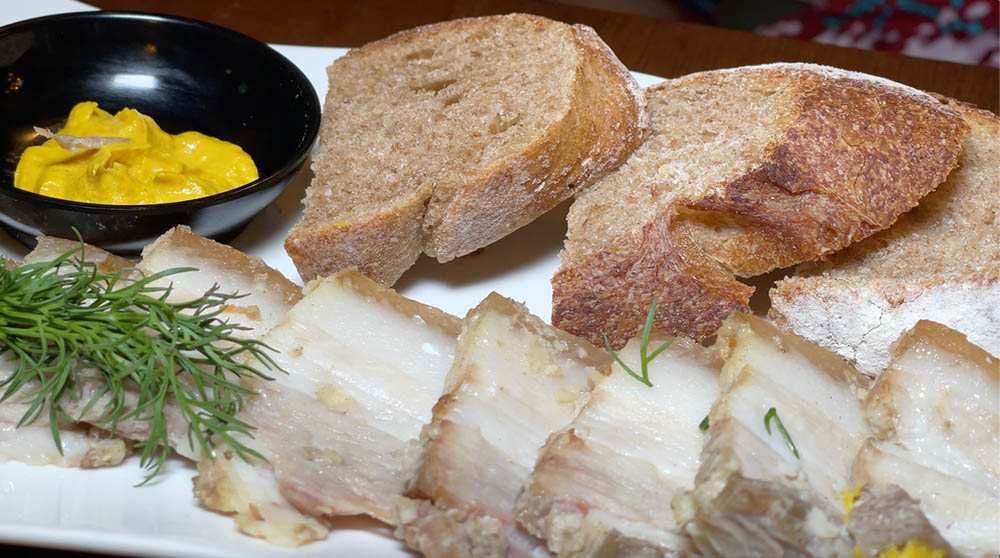 Salo is a traditional Ukrainian delicacy prepared differently in Singapore, according to Vadim, as "we cannot get that kind of pork belly back at home with different thickness of fats…Here we do bacon pork belly".
The pork belly is marinated in garlic, salt, pepper, and bay leaf for days before baking and freezing. Salo is served chilled in thin slices and dipped with mustard sauce for spiciness. "It goes well with borscht soup, and always [goes well with] a shot of vodka," Vadim nodded convincingly.
A 200-year-old Cake Recipe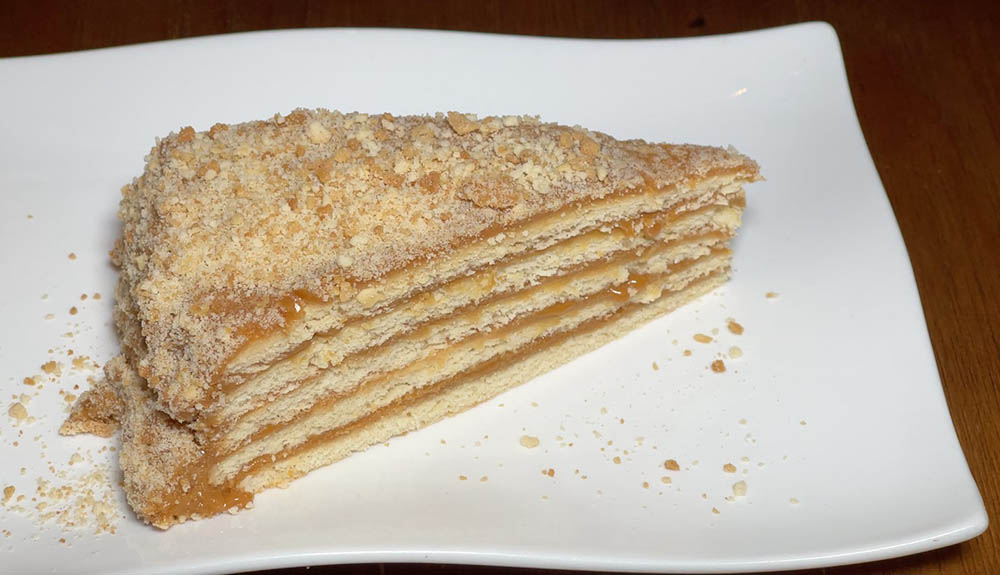 A meal here is never complete without Medovik, a rich, soft multi-layered cake perfected by a 200-year-old recipe containing honey, sour cream, and condensed milk.
Medovik cake is said to be invented in the imperial kitchen for Russian Empress Elizabeth Alexeievna, wife of Alexander I. Interestingly, it is said that although the empress disliked honey, she fell in love with the cake at first bite. The cake amassed vast popularity during the Soviet era.
Recently, Vadim has opened a Russian food kiosk in Lau Pa Sat selling affordable Russian and Ukrainian food. "If you want to start your cheaper version, please come to Lau Pa Sat and support us," he said.