Broaden your retail therapy sessions with trips to flea markets! Touting affordable food, clothes and artisanal goods, Flea markets are a favourite amongst adventurers and deal hunters. Check out these 7 flea markets the next time the itch for adventure comes!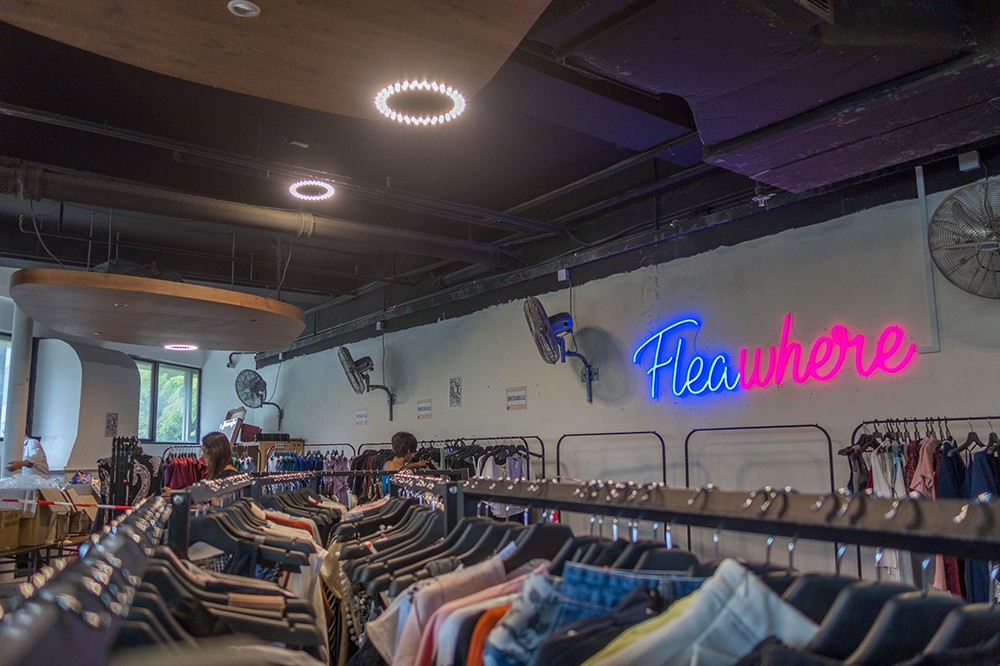 1. FleaWhere
Located at Lucky Plaza Level 6, Fleawhere is the brainchild of the largest flea market organiser in Singapore! Typically hosting clothing booths, prices can go as low as $5 or even less than a dollar for accessories!  The whole area spans nearly half of the floor and holds a large range of items that are usually cheap.
Fleawhere is open everyday unlike other flea markets. Sometimes, they host booths that carry bridal dresses and also out-of-season blogshop items for cheap! It's great for those just looking for steals and gains. You can also rent a booth and sell products yourself!
FleaWhere: Lucky Plaza Level 6 (Besides Valu$) | fleawhere.com

2. MOX Parade
Located right outside of School of the Arts (SOTA), MOX Parade typically sells handmade crafts and other artisanal paraphernalia. With products like embroidery kits and handmade jewellery, MOX Parade is a hit amongst younger crowds looking for out-of-the-ordinary items to jazz up their everyday lives.
Advertised as the place of creatives for creativity, Mox Parade encourages young artists and entrepreneurs looking to make a mark through their creations. Support MOX Parade by purchasing goods from them, held from Friday to Sunday, 1pm to 9pm! They are held monthly, so be sure to check when the next one is coming.
MoxParade: School of the Arts (Level 1)
https://www.eventbrite.sg/e/mox-parade-march-tickets-57565735665

3. EatBox Singapore
Located at Downtown East, EatBox has finally arrived in Singapore! With a sizeable number of vendors selling your typical pasar malam fare all the way to more gourmet foods such as Lala soup and whole fried squid, it has something for everyone. Get some tickets to their Bacon Beats Festival which features local music talent while you munch on good food!
Held on 11-13 and 18-20 January 2019, Eatbox is a good date idea for those looking for something more interactive and fun. Remember to take some pictures  while you're there. Keep a look-out for next year's as we expect it to expand and get even bigger!
Eatbox: Downtown East D'Marquee | http://www.artbox.sg/eatbox/

4. Carouselland
Known as the biggest annual flea market in Singapore, Carouselland is an event held by the popular second-hand selling app Carousell. With 400 curated booths of different types, the most popular types are those that sell their pre-loved clothes for dirt cheap prices. A sure-hit amongst younger crowds with a small budget, Carouselland is a must-go for deal hunters as you get to negotiate and haggle prices.
Typically held at convention centres, Carouselland is held over a weekend from Friday to Sunday. They also hold an interactive treasure trail with sure-win prizes that include Carousell vouchers. This year's Carouselland has yet to be announced so keep an eye out for any information!
Carouselland: https://www.carouselland.sg/

5. Shilin Night Market
The infamous Shilin Night Market from Taiwan is heading over to Singapore this coming April. With famous foods like flame grilled beef and stinky tofu, Shilin Night Market is a sure hit with people looking for great eats and family fun!
Soon to be located at Kranji, Shilin Night Market is also great for fashion picks and game booths. With over 300 booths, it has something for everyone. One of the highlights is Gongcha's funhouse where you can mix and match your own drink with different bases and toppings! Keep any date from 19-21 and 26-28 April free and drop by Shilin Night Market!
Shilin Night Market:  The Grounds @ Kranji, Carpark B at Singapore Turf Club, 1 Turf Club Ave | https://www.facebook.com/events/2281067658779536

6. Kranji Countryside Farmers' Market
Located at Loewen Gardens, which is a bus ride away from Kranji MRT, this farmers' market is a favourite amongst foodies and curious people alike! With artisanal drinks such as locally grown mint and basil fusion with fresh aloe vera and locally produced honey, it is no wonder why it has managed to stay in trend for so long.
Our favourite is Uncle G's roast pork. His siobak is his best seller, with delightfully crispy skin and flavourful meats. Drop him a text to make an order or come to the market early to buy some as it sells out really fast!
This farmers' market is accessible only by car or their shuttle bus from Kranji MRT. Remember to bring some change and to double check the schedule on the website!
Farmers' Market at Loewen Gardens: 75E Loewen Road
Singapore | https://www.facebook.com/Farmersmarketatloewengardens/

7. The Local People
This flea market is aimed towards crowds who are more interested in artisanal and handcrafted goods! Similar to MOX Parade, it is advertised as a fair for local creatives looking to earn through their art or products.
With a vision to "reinvent spaces", this flea market takes uncommonly used areas and holds flea markets in order to challenge the notion of commercialisation. From locally produced goods to the showing of underground indie films and music, The Local People also provides workshops and showcases community art on top of the regular flea markets.
Be sure to check out the flea market that calls itself the "anti-thesis of mass manufacturing and thoughtless buying"! The next one will be held in front of the National Museum of Singapore on 23 & 30 March, 12-7pm!
The Local People: https://www.thelocalpeoplesg.com/