By  
Malacca, a food paradise for many, has been a perfect destination for those who want to have a short getaway from their busy lives, especially Singaporeans. There are so many famous local Malaccan foods that you must try when you pay a visit. Their unique Peranakan cuisine is one you shouldn't miss. But what about their best food souvenirs to bring back home? Here, we have gathered 10 best snacks to buy in Malacca before you head back.
1. Gula Melaka

The popular ingredient in Peranakan cooking — Gula Melaka, also known as palm sugar, is made from the sap of coconut palm trees, which is then boiled down to a concentrated dark brown palm syrup. You often find it drizzled over cendol or ice kacang/ABC and even in traditional Nyonya desserts. They are normally shaped into cylindrical shapes or blocks and are sold along Jonker Street in Malacca. The lighter the colour, the more refined sugar is being added. Thus, if you want a purer type, get the ones with darker colour.
2. Pineapple Tarts

Pineapple tarts in Malacca taste different from those you can find in Singapore as they are more savoury and crusty. With the sticky-sweet and sour pineapple jam inside, it will take your taste buds to a whole new level. You will be able to find them along Jonker Walk. Some of the more popular stalls include Sam Shu Gong, Pooh Keon and Nyonya Story Enterprise. The prices vary but it is best to buy homemade ones instead of factory produced ones as they are fresher.
3. Dodol

Originally produced in Malacca, Dodol is a sticky candy that tastes like toffee, made from coconut milk and rice flour. The original flavour has the sweetness of gula melaka which complements well with the coconut fragrance. If you want something more flavourful, go for the exotic durian flavour to satisfy your cravings. There are also other fruit flavourings like mango, apple and pineapple. Often packed in a small pyramids, it is a must-buy snack for those who have a sweet tooth.
4. Cincalok

Cincalok is a Peranakan specialty normally found in Malacca, and is made of fermented small shrimps or krills. Having quite a pungent aroma, cincalok has an exotic smell and taste which is either loved or hated by people, no in between. It is often served as a condiment together with chillies, shallots and lime juice. If you happen to like it, why not buy some home to enjoy?
5. Belacan

Made from shrimp krill, belacan is a Malaysian condiment that has a unique fermented taste similar to cincalok. The krill is normally steamed first before getting mashed into a paste and stored for several months. It is then fried and hard-pressed into various sizes. Malacca has some of the best belacan with the 'rich taste' you can only find in Malaysia. Thus, it's not hard to know why many tourists come here to shop for ingredients.
6. Kacang Tumbuk

Kacang tumbuk, which literally means 'punched peanuts' in Malay, is a flaky peanut biscuit or candy. The nuts are crushed before getting mixed with sugar and then made into square bite-sized biscuits. They are so crumbly that they will melt in your mouth before you have a chance of biting it. So be careful to not make a mess while enjoying the sweetness of kacang tumbuk.
7. Coconut cookies and candies


Coconut-related snacks are a must-buy if you pay a visit to Malacca. It is perfect for a treat. Coconut candies are generally made of coconut milk and corn syrup and are usually brown in colour. There are types that are soft and hard, depending on your liking. Some coconut candies are mixed with gula melaka, which makes them appear darker and sweeter in comparison with the original ones.The coconut cookies are made of dried, shredded coconut and usually have a rich and savoury coconut flavour when eaten. It's perfect to have with a cup of tea.
8. Nyonya Kuih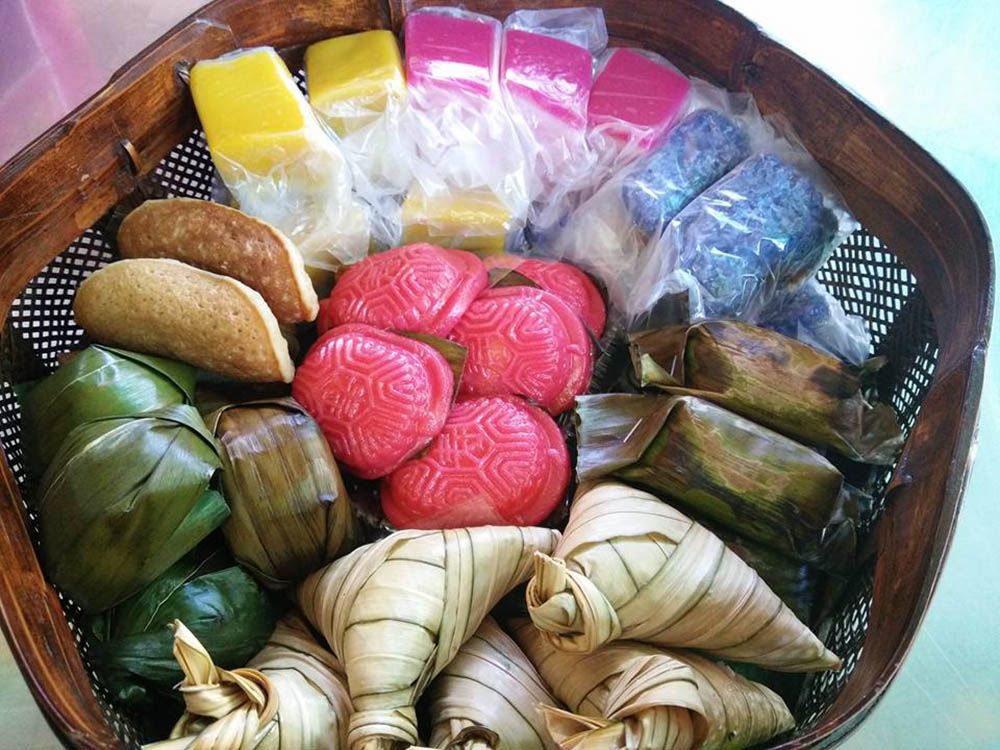 Couldn't get enough of the colourful selection of Nyonya kuih in Malacca? Why not bring them home! From onde-onde, kuih lapis, seri muka to tapioca, these kuih can be either savoury or sweet. They are normally made from natural ingredients such as fragrant coconut, gula melaka, fresh pandan leaves and dried butterfly pea flowers. However, since they are freshly made without preservatives, it's best to consume within 1 day to avoid stomach upsets afterwards.
9. Nyonya Dumpling

Different from the usual savoury rice dumpling or bazhang that we have during Dragon Boat Festival, Nyonya dumpling is somewhat sweet and normally has a bright blue appearance. The colour is not artificial but instead comes from the colour of butterfly pea flowers. The glutinous rice dumplings are stuffed with slightly sweetened minced pork and candied winter melon. That explains why it tastes savoury-sweet. There are quite many shops that sell Nyonya dumpling in Malacca. Some of the popular places include Poh Piah Lwee and East & West Rendezvous Cafe. Be sure not to miss it!
10. Chicken Floss Tou Sar Kok

Jin Yuan Biscuit and Bakery has been around for many years and is popular among Singaporeans. Their signature snack Chicken Floss Tou Sar Kok has a crunchy outer layer and a soft and smooth inner texture thanks to the tou sar and the chicken floss. The combination of these two is surprisingly good and the sweetness is just the right amount, not too sweet nor too bland. Once you have one bite, you just can't stop.
Jing Yuan Biscuit And Bakery
Address: 45-D, Jalan Ong Kim Wee, 75300 Melaka.
Phone number: +6012 712 7905
What do you think of our list? Have you tried any of them? Comment to let us know and don't forget to share!
Read the following articles to find out what you can do and where you can stay when visiting Malacca:
https://vibrantdo.co/6-best-malacca-hotels-to-stay-at-for-a-memorable-holiday/
https://vibrantdo.co/10-trendy-boutique-hotels-in-malacca-2019/
https://vibrantdo.co/top-8-malacca-cafes-2019/
https://vibrantdo.co/top-malacca-food-places-recommended-by-locals/